Jan 2023 28
In November 2022, Applied Graphene Materials (AGM) announced that it aimed to raise money to fund its operations, but was unable to do so. AGM Later said it received non-binding indicative proposals for its sale. Image AGM now announced that trading in its shares...
Jan 2023 28
Jan 2023 28
Quasiparticles -- long-lived particle-like excitations -- are a cornerstone of quantum physics, with famous examples such as Cooper pairs in superconductivity and, recently, Dirac quasiparticles in graphene. Now, researchers have discovered quasiparticles in a...
Jan 2023 27
Researchers from Penn State and University of Electronic Science and Technology of China recently enhanced their gas sensor manufacturing process through an in situ laser-assisted manufacturing approach, improving on their previous method of drop casting (dropping...
Jan 2023 27
Mobile phone batteries with a lifetime up to three times longer than today's technology could be a reality thanks to a recent innovation.
Jan 2023 25
We're happy to announce the tenth edition of Graphene-Info's very own Graphene Handbook, the most comprehensive resource on graphene technology, industry and market - now updated for 2023. Get your copy now to stay current on graphene research, development and...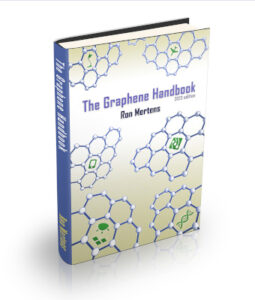 Jan 2023 25
Bio Graphene Solutions (BGS) recently announced the development of the its first graphene-enhanced product for the concrete market.  Leveraging its capability of converting 100% organic materials into high-quality graphene via a patented cleantech process, BGS has...
Jan 2023 24
Liquid metal catalysts have recently been attracting attention for synthesizing high-quality 2D materials facilitated via the catalysts' perfectly smooth surface. However, the microscopic catalytic processes occurring at the surface are still largely unclear...
Jan 2023 24
Graphene-based olfactory sensors that can detect odor molecules based on the design of peptide sequences were recently demonstrated. The findings indicated that graphene field-effect transistors (GFETs) functionalized with designable peptides can be used to develop...
Jan 2023 21
Researchers at Tokyo Institute of Technology (Tokyo Tech) and Toshiba Corporation recently demonstrated how graphene-based olfactory sensors could detect odor molecules depending on the design of peptide sequences. They showed that graphene field-effect transistors...